Disclaimer: This post may contain a link to an affiliate. See my disclosure policy for more information.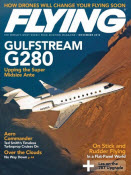 For a limited time you can score a FREE Subscription to Flying Magazine!
This would make a cool Father's Day gift! You will get a 12-month digital subscription. No strings attached. You'll never receive a bill.
And if you download the immediate issue after you submit your order, you'll receive one extra issue. That's 13 issues in all!
To find all our Giveaways >>HERE! To find the latest Freebies we posted >>> HERE!
{ 0 comments }